Hello All,
As an avid shed hunter and trail cam enthusiast, I've always had a goal (although I knew it would be a lofty one!) to capture a buck shedding his antler(s) on one of my trail cam videos.
I keep cams out year round, and since the area I work is public land but off-limits to hunting, I capture some pretty cool captures of buck behaviour. I had a buck show up this past July sporting mile high brow tines. He next showed up 12 days later, but this time was missing his entire velvet right side antler. What happened remains a mystery, but this buck became a fan favourite and was given the nickname 'One Side.'
I would capture 'One Side' regularly, both with the trail cams and with my DSLR while out hiking. He was very comfortable around me, which allowed me to get close and capture him in his element.
Here he is on November 9:
I made it my goal to find that left side antler when it shed. (In the back of my mind, I was hoping that shed action might happen in front of one of the cams...)
Fast forward to January 8th. Our bucks often drop early here, and the first few weeks of January are prime. As I walked up to my cam that morning, I could see from a distance a shed antler laying perfectly in front I was over the moon! (I was also secretly praying that my batteries weren't dead when he dropped it).
It took me a minute to realize it was the antler from 'One Side,' That alone made my season. But when I reviewed the footage, and found out he shook it loose the day before - and it was all caught on video... well, it doesn't get any better than that.
This trail cam video is going to be a tough one for me to top. We'll see what next season brings!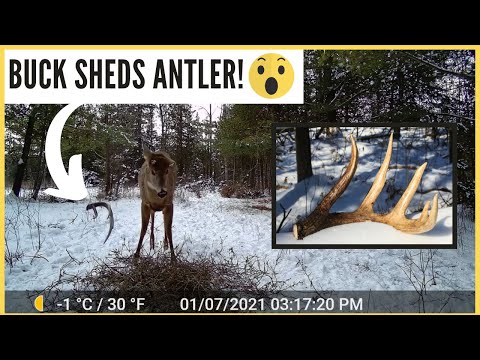 Cheers,
Justin